Exhibitions by local artist Elaine McLennan Topping and spinner Maggie Olive

r
Thursdays to Sundays 6th to 30th July (10 am to 4 pm)
We continuing our series of month-long art and craft exhibitions at the Centre and have invited local artist Elaine McLennan Topping and spinner Maggie Oliver to display some of their work for the month of July. Elaine lives in Ystalyfera in the upper Swansea valley. Her painting is influenced by what surrounds her: light source, weather, colour, shade and sound. As she says "Permanence and change, movement and stillness – the process is as equal as the product – the subject becomes object." Elaine regularly goes walking and is absorbed by the amazing landscape around her. She tries to capture these experiences, fleeting moments, and place them on a two dimensional surface.
With Elaine's experience in painting murals we have invited her, while she is in Llanwrtyd, to help two of our volunteers to complete the finishing touches to a mural on the back wall of the town's public toilets, recently renovated by Llanwrtyd Wells Town Council.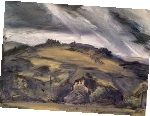 This is a project that was initiated by the Centre's History Resource Group with funding from HLF and Glasu to illustrate various events that have taken place throughout the history of Llanwrtryd. Visitors can view the mural from Memorial Garden across the river.
Elaine completed her Fine Art degree in 1990 and has since delivered art workshops and developed her own work alongside being employed. She is a self-employed artist and is happy to take commissions, tailoring work to suit her clients. Examples of her work can be seen on www.artfeatz.com She can be contacted by email artifeatz@gmail.com or by phone (07922 007154) to arrange seeing her work in real life.
On Saturday 22nd July Elaine will be at the Centre for a special viewing of her work with refreshments.
Also demonstrating and displaying her work will be local spinner Maggie Oliver. Maggie lives in Tirabad and has been spinning and weaving and crocheting for over 30 years. She uses specialised local sheep breeds for sourcing her fleeces from Abergavenny and Tally and is currently using wool from four-horned Jacob and Blue-faced Leicester breeds. Maggie's spinning wheel and weaving loom will be present and Maggie is looking forward to showing visitors how she spins and weaves and is also willing to teach some of her skills.
Maggie will be working at the Centre most days and will be pleased to welcome visitors.
FREE ADMISSION – ALL WELCOME