Again the Heritage Centre drew a crowd for one its regular evening events. On this occasion a talk given by Richard Rees regarding a largely forgotten proposal by London County Council to provide "pure Welsh water to the residents of London".
The plan was to capture many of the rivers of Mid-Wales, divert them to huge impounding reservoirs and then transport this by gravity to London, 180 miles away. A headline of the Evening Express of 7th November 1895 stated;
HOW THE LONDON WATER SCHEME WOULD AFFECT WALES?.
VAST TRACKS OF LAND SUBMERGED.
TOWNS, VILLAGES, CHURCHES, AND CHAPELS DISAPPEAR.
LLANGAMMARCH SWALLOWED UP.
DEVELOPMENT OF LLANWRTYD  PREVENTED.
ABBEY CWM HIR WIPED OFF THE MAP.
488 SQUARE MILES OF COUNTRY RENDERED USELESS.
LARGE POPULATIONS DISPLACED.
A proposed damn located near Garth would have flooded the Ifron Valley and the creation of the Irfon Reservoir resulting in the drowning of the villages of Garth, Beulah and Llangammarch Wells and the demolition of Llanwrtyd Wells. Although Llanwrtyd would have been saved from flooding it would have be demolished to prevent potential pollution of the stored waters.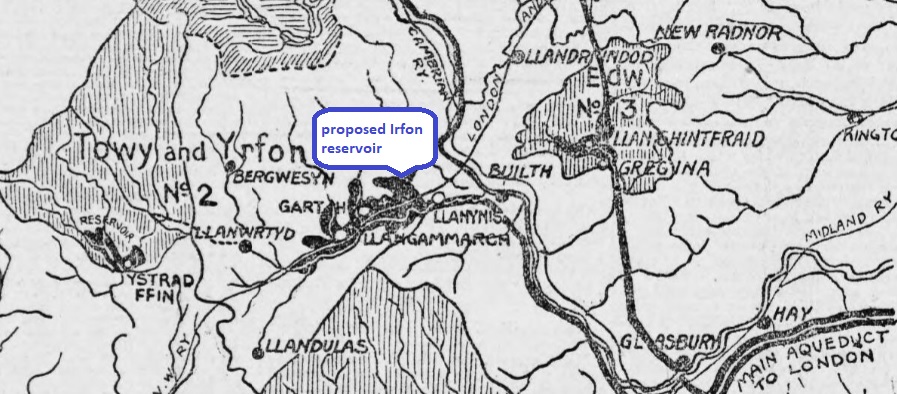 The development would have been huge, four times greater that the Elan Valley reservoirs built to provide water for the growing city of Birmingham.
The plan was close to becoming reality but was defeated in the House of Commons in 1899 (in part because of the cost of buying the six existing London Water Companies) and the threat largely forgotten.
Richard has spent extensive time researching London's Great Grab and his talk was an intriguing insight into a great Victorian civil engineering scheme which could have changed the face of mid-Wales.