Recent visitors to the Heritage and Arts Centre will have noticed the large 1920s London Midland & Scottish Railway advertising poster encouraging travellers to visit the town. The work is signed by Montague Birrell Black (1884-1964), a well-known artist and illustrator of this era.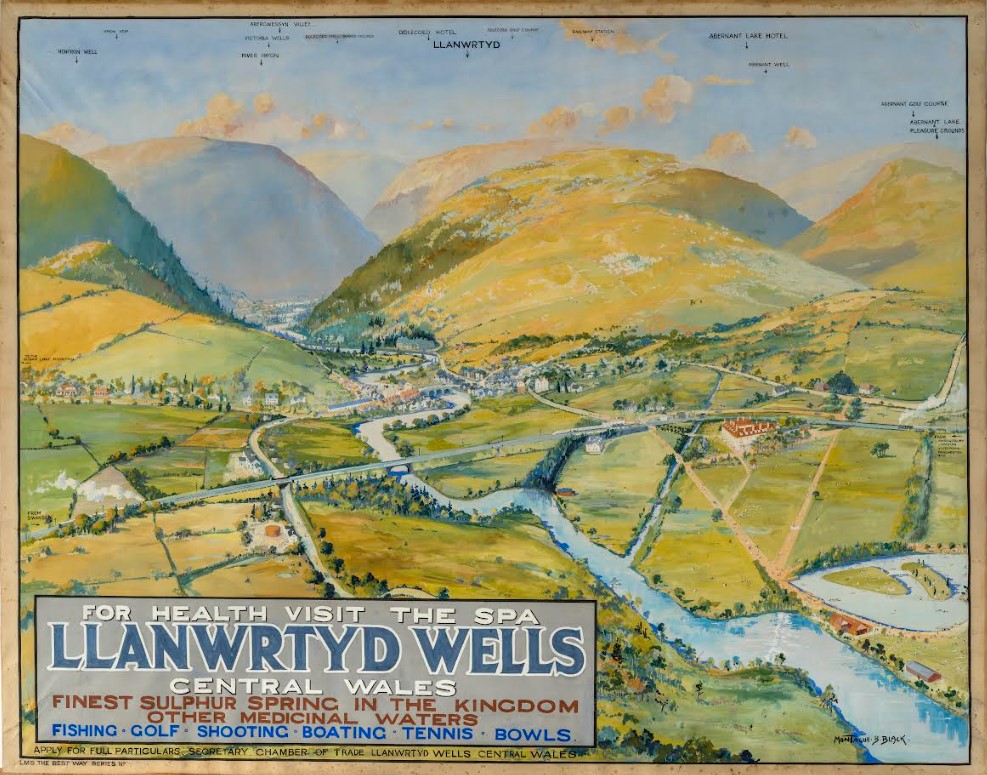 Artistic licence was very much the style of the day, and while the shapes of the hillsides are strongly reminiscent of those of the upper Irfon valley, the scene depicted presents Llanwrtyd as almost being an alpine resort.
The framed poster was donated to the Centre having for many years been on display in the Llanwrtyd War Memorial Institute on Irfon Terrace. In 2022, the Heritage Centre Trustees explored the possibility of making post cards and printed copies of the work. Guidance on the technical background, provenance and copyright of early twentieth century travel posters was generously provided by the curatorial team of the National Railway Museum. It was by chance that during the process of obtaining a digital image of the work, it became clear that the work is actually the original painting rather than a print.
Typically, the original artwork would have been destroyed following the lithographic print production process, but the fact that it survived to this day in Llanwrtyd is intriguing.
Posters and post cards are available for purchase from the Centre
A3 (large) £25, A2 (small) £15, Postcards £2